Fun and Exciting Links
I think links are cool and fun, so here are some of my favorites. Enjoy!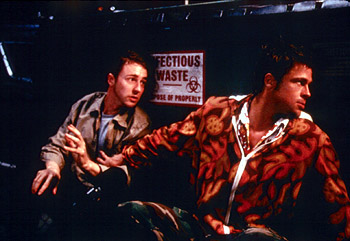 Have you seen "Fight Club"? If not, go rent and see it right now. It is probably the best movie I have ever seen. I know that from the commercials it doesn't look like it has a plot, but it does, and it's a great plot. I'd tell you about it, but that can't really be done without giving away the very suprising ending of the movie. So, I really recommend that you go see it. Have some of your friends come over and watch it with you. It is really thought-provoking, and some parts are really funny too.
Website's Created By My Friends
My Original Website I don't know if you've been to my site, but if you haven't you should go there now and be sure to sign the guest book please!
Steve's site Steve is my friend from England. His site is really funny, you should check it out.
Ryan's site Ryan is my second cousin and friend. He is one of the funniest people I know. His site's pretty inside-joke oriented, but still very funny. BAM! lol

My Favorite Sites
Fitshaced This is my favorite online magazine. It's got lots of great rants, stories and pictures. Don't go here if you are easily offended. :)
Yahoo This site is where I got my email from, I think it's got a great, easy-to-use, format. Yahoo also houses the search engine I use most often.
Antichrist.com I recently found this site while looking for information on Vlad the Impaler. It's based in Australia, so it doesn't have very local information, but it does point out a lot of the hypocrisy of the Bible.
Bolt This is a fun website in which to meet people. You get to create a profile and a tagbook in which you ask questions and people answer them. It's really fun, and a good time waster. If you go there, sign up and make sure you sign my tagbook, my bolt name is diablita2001. Thanks.
Marilyn Manson The official Marilyn Manson website.
Aerosmith The official Aerosmith website.
Bad Fortune Cookies This site has cookies with more realistic fortunes... you can also create your own fortunes to send to your friends/enemies.
Rotten.com This site is filled with lots of real and disturbing photos. It's even got dead celebrity shots, like pics of Chris Farley's death. At least it doesn't have people eating dead babies... or didn't til recently anyway....